Arcademics Basic
Discover how multiplayer gaming can engage your students - for free! Enroll your students and assign games to play. Students login online or with the free app to play together. Upgrade to Plus anytime.
Start Now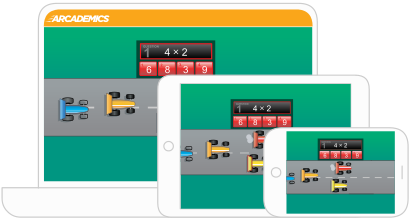 Here's Why You Should Try Arcademics Basic:
Multiplayer Classroom Gaming. Our HTML5 games allow students to play together from any device - with no installs or firewall edits needed.
Engaging & Motivating. Playing with classmates increases student engagement and can improve time-on-task performance.
Rate-Based Learning. Fun and focused repetition practice enables automaticity and fluency to be achieved quickly.
What Are Educators Saying?
Badges & Power Ups
As students play, they can earn prestige achievement badges and fun power ups to use in games.