Looking to Expand Your Game Offerings?
Through our Affiliate Program, Arcademics HTML5 games can be embedded on approved sites and platforms for a small monthly fee. With over 2 million gameplays every day, we can handle your traffic, and we are confident you will love how our games increase engagement and pageviews within your system. Contact us for more information.
How Our Game-Embedding API Works
The API pulls the games from our servers and displays them in your pages, so students can play within your platform. This enables us to update and maintain the games, ensuring the latest versions are available 24/7.
Our cutting edge HTML5 multiplayer games can increase your pageviews and impressions by:
HTML5 games play across all browsers and devices natively without the need to install or download anything.
School firewall compatibility is increased with our data formats - schools will not need to adjust their firewalls to use our games.
HTML5 games rank higher on Google search results enabling more users to find your site.
Our games can easily by wrapped into your App for integrated publishing to the app stores.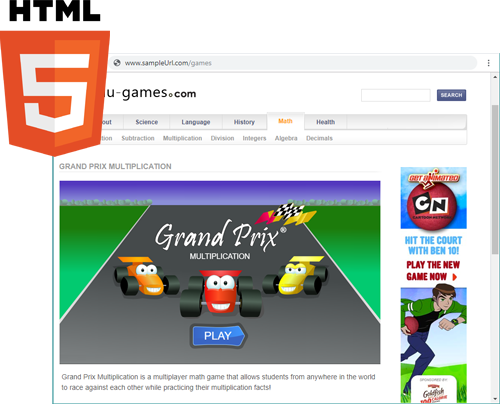 Awesome Affiliate Features
1

Use Your Branding
Your company or platform's brand will display at the beginning of the game, to seamlessly match content in your system.
2

Custom Content Strings
The games can take in content strings from your system to easily integrate with lessons and enhance practice tasks.
3

Score Data Transfer
Student score data can be sent from the game to your reporting system backend for real time data charting and analysis.
Get Started
Ready to see how Arcademics multiplayer HTML5 games can increase engagement and pageviews on your platform?
Contact us for more information on our Affiliate Program. We will set up a free demo of how it can work with your system and a no-cost trial to see how your users like it.