Why Work at Arcademics?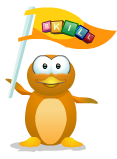 Do you want to change education and have fun doing it? Our team is full of smart, fun, and motivated people with a passion for creating the best educational gaming technology possible. Millions of users count on us to make learning as fun and effective as possible, so we're looking for exceptional people who are committed to solving the challenges faced by students and teachers around the world. If you are eager to innovate, make an impact, and engage students, we want to meet you.
JOB OPENINGS
Tell us how you can make a difference at Arcademics! Email us at jobs@arcademics.com about the below openings or how your skills can impact us.
Content Writer
We are looking for creative and motivated content writers to join our team. In this role, you will work closely with product analysts and content editors to develop and write engaging math and language arts items for grades K-8. Apply
Software Engineer
As a Software Engineer, you will build the back-end wiring, application logic, and UI that drive the site. You will be involved in all aspects of the development process and contribute to the entire code base - including design, coding, testing, debugging, and tuning. A solid grasp of Python, SQL, JavaScript, and CSS is required. Apply
Marketing Manager and Associate
We are looking for creative, motivated, organized, and passionate individuals to join our team. In this role, you will brainstorm and execute various marketing initiatives to help spread the word about Arcademics to parents, teachers, and schools. Responsibilities include writing on-site text, managing our social media presence, and coordinating other marketing campaigns. Apply
Sales Manager and Associate
We are looking for upbeat, focused, and energetic individuals with competitive spirits to help build and manage relationships with school and district-wide subscribers. In this role, you will effectively communicate key product features and benefits to prospective customers over e-mail and by phone. You will need to develop a keen understanding of customer needs and values in order to provide personalized assistance throughout the sales process. Apply
BENEFITS
Fun work environment
Cutting-edge technology projects
Competitive salaries
Flexible hours
Generous paid vacation
Health, vision, dental insurance
401(k) retirement plan
Making a difference in students' lives!